V-fine Aurora 30cm Wok (IH)
RM349.00
Induction friendly wok with a stainless steel outer layer and a non-stick inner coating.
---
DF-SN-CW30-V
Retail price: RM 349.00
---
Availability: 37 in stock
Basic Constitution
V-fine Aurora Stainless Steel Induction Non-stick 30cm Wok (5.0L/ H:8.5cm)
Precaution
Low to medium heat for cooking. Do not use Metal Utensil for cooking. Suitable for all type of stove top including Induction Cooker.
Material
Die-Casting Body 6 layer Whitford Xylan Marble Granite Coating (from USA)
Product Features
1) Premium-release topcoat (marble granite) from the (Xylan-plus)
2) Built-in spoon rest knob
3) 100% food safe and certified by SIRIM.
4) Premium release topcoat from the (Xylan-plus) temperature 400°C – 410°C
5) Marble granite interior coating
6) 430 stainless steel exterior body
7) Heavily reinforced prime coat
8) Sand blasting reinforced aluminium top
9) Food grade aluminium alloy
10) Quick heat & induction stainless steel 430
𝐁𝐞𝐟𝐨𝐫𝐞 𝐟𝐢𝐫𝐬𝐭 𝐮𝐬𝐞:
1) Wash the pan and boil water for 5 minutes
2) Pour out the water and wipe the surface.
3) Apply 1 – 2 spoon of cooking oil on the surface.
4) Wash and clean water before net use.
𝐃𝐮𝐫𝐢𝐧𝐠 𝐂𝐨𝐨𝐤𝐢𝐧𝐠:
1)start with medium flame & turn to low flame once cookware is hot
2) Don't use metal on non-stick pot (use wooden/nylon/silicon utensil to prolong the non-stick lifespan)
3) Cook using moderate heat and never overheat the pan. Overheating may cause damage to pan.
4) Always use appropriate size of burner to match the pan's size. If cooking on gas, adjust the flame so that it does not extend up the side of the pan or reach the handle.
5) Do not leave the pan in cooking unattended ( Just heat and cook immediately)
𝐂𝐥𝐞𝐚𝐧𝐢𝐧𝐠
1) After use, let it cool, clean with scratch-proof scouring pads.
2) Never use aerosol cooking spray.
3) Use soft detergents to clean the pan
𝐑𝐞𝐦𝐚𝐫𝐤:
1) Don't store food in your Pans
2) Ready Stock
3) Silicon handle already attached on the handle of the Pot.
4) Pack and Ship out within 1- 3 working days (May changes depends on campaign peak season without prior notice)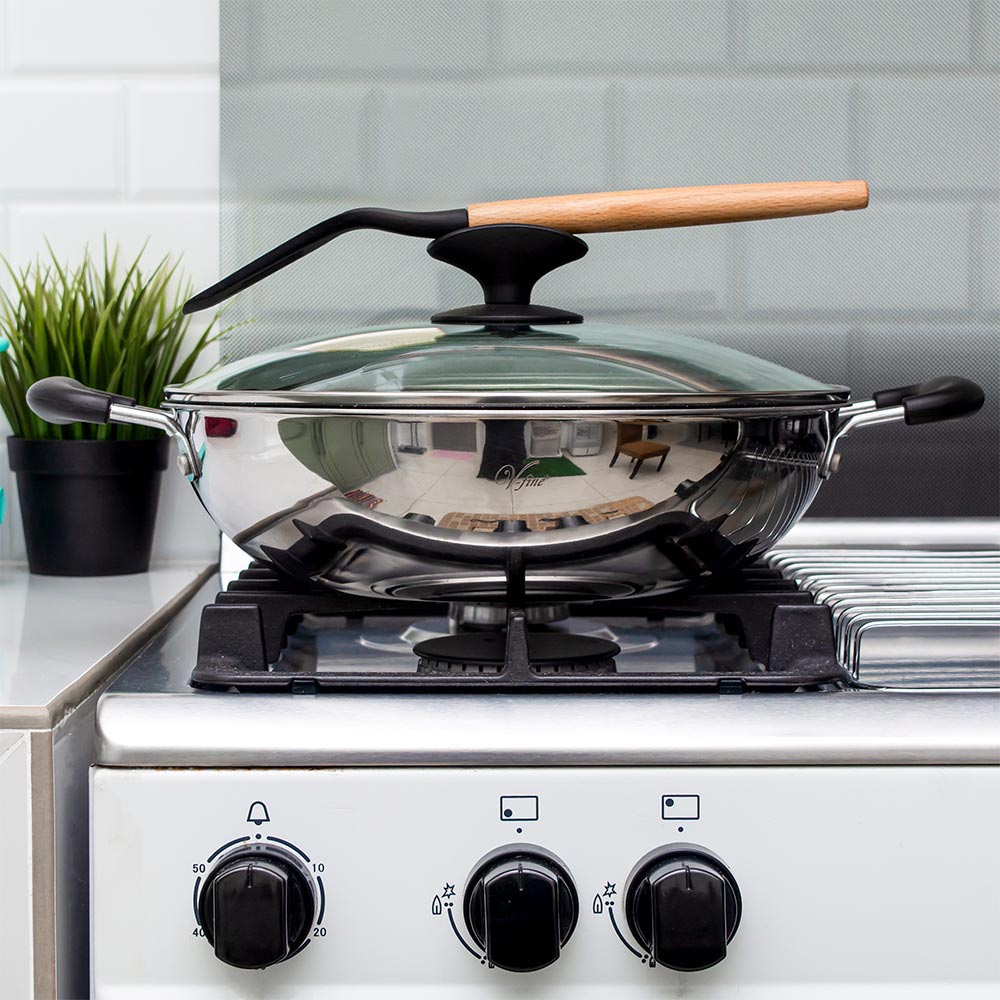 | | |
| --- | --- |
| Weight | 4.5 kg |
| Dimensions | 42 × 39 × 14 cm |